GoalBold.com had the opportunity to interview Churchill Brothers youngster Brandon Fernandes. He shares with us his struggle, his experience in South Africa, his trials stints and his current tryst with Churchill Brothers. Special thanks to Gufran Merchant from TRP Sports, for making this interview happen. Here's Brandon Fernandes for you –
1) How has been the year 2017 in football terms for you?
The year began with a good signing for Churchill Brothers FC. So far it has been a good journey working with the team towards achieving a higher goal. It's just the beginning and a lot more to achieve in the coming months.
2) How's the experience here at Churchill Brothers? You played for Bagan earlier as well as Sporting Goa? How different has it been with each club? Could you share some of your experiences?
Each club had a different aura.. There was achievement as well as downfall but every club had a lot to teach and
learn from. At Churchill Brothers FC, I've seen the team grow. Together as a team we have ascended. It's a club that I've gained a lot of love and support from the entire Alemao family and fans.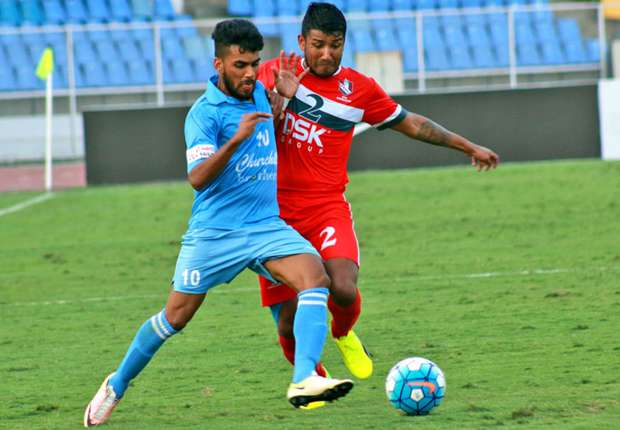 3) You've been a part of a foreign league, played for ASD Cape Town? How different is their approach to the game? How did it help you in your development?
The game played in the foreign country is a lot different and at a much higher level. We Indian players have the
potential to reach that level. All we need is more exposure and opportunities to gain that level of football. I was trained by a very good coach & training with brilliant players on my side, every session was a challenge which
in return boosted my confidence and helped me get better with every passing season.
4) Tell us about your experience of trials with EPL Clubs Reading and Leicester.
I've learnt a lot while I was in England. It was a great experience, spending time with the EPL players
on and off the field helped me shape my abilities and skills. Selection in clubs in first team isn't really easy.
It does take a lot of hard work and dedication to match their level of style and game play.
5) Do you think if you could have tried clubs in Europe (other than England), you would have got selected and played in Europe now or are you happy playing in the I-League?
For me every given opportunity is important and I do try to make the most of it. Well perhaps, if I had tried other
clubs in Europe I would have got a chance but right now I'm playing the I league so I plan on focusing on this and
giving my all.
6) Your favourite club? The player you want to emulate? Any National Team senior player inspirations?
My favourite club is Manchester United. Well, I don't really emulate any of the players as I feel my style
of play is unique or different in its own way. But yes, I do try and inculcate the different skills used by some of the star players and give it my touch of play. The national team player that has inspired me a lot is Sunil Chhettri.
7) How's the experience been under Derrick Pereira? Churchill has made big upsets after the managerial change and also were on the verge of relegation, but now sit comfortable with 6 points from relegation. Your thoughts?
The entry of Coach Derrick Pereira has definitely changed the game for the team. We had amazing players, yet lacked in somewhere and now coach has filled in that space and helped the team grow and gain success in most of the matches so far.
8) You play Mumbai FC this week and they defeated you at your home ground. Also, Mumbai will be desperate for a win and will look to close the gap as they are the ones heavily tipped to relegate this time. Any special plans for this game?
Yes, we lost the home match against them but the team is stronger now and right now we are only looking forward
to a victory. We take one match at a time, so we will go well prepared for the match, try to do our best and come out as eventual winners.
9) Any comments on the merger?
I want Indian football to rise to a higher level. The higher authority should do what is best for Indian football and the betterment of the players.
10) Your views on the U17 World Cup? Expectations from the team, how will it bolster Indian Football?
Its a big step for our nation to take football to another level, World Cup to happen in India is a very big thing and we should make the best out of it. The Indian team should try and excel in every match, progressing to the knock out stage and further.
11) You have had your ups and downs with injuries and this season has been quite good for you. What are your future plans? Would you try out for Europe again?
Every player has his ups and downs and so did I but I took it all positively and made sure I bounce back stronger and will continue to do so. No one knows what the future holds hence I'll go with the flow.
Here's Brandon Fernandes signing off with his views on the merger, U17 World Cup in India and even about his favourite team and player from our National team. Having previous experience in South Africa, trials at Leicester and Reading from England, Lusophony games and donned the U19 National Team jersey, he has gone all blazing this season and made his name among the Indian Football fans. Hoping the young star keeps working hard and earns the senior team call up soon, Team GoalBold wishes him luck and special thanks to Churchill Brothers management, Gufran Merchant from TRP Sports and the man of action Brandon for this wonderful interview.